From Our Nature Notebook: Flower Power
This week our nature study focus has been flowers. I thought I would post how this nature study unit is being planned and a bit on how it's going.
Teacher Prep
- The first thing I did as teacher background was read "How to Begin the Study of Plants and Flowers" by Anna Comstock (Handbook of Nature Study pp 453-460). Then I stopped by the library and picked up a few flower and plant-related books, field guides and magazines. The new June issue of
Nature Friend
magazine arrived (yay!!!) and I scanned it for flower-related articles and activities. (There were some!) I also marked the pressed flower project directions in my
Nature Smart
book.
Getting "Out There"
Well, in this case, "out there" was in our backyard. : ) I announced that we were going to be finding some flowers to look at and press. Immediately, Miss M excitedly scampered out into our back yard to collect some fragrant lilacs. When she came back in she had a crown of lilacs and plenty of specimens to press.
Informal Lesson
With my
Handbook of Nature Study
and
Eyewitness Plant
open, we each took one of the small lilac flowers collected and found some the parts listed in the
Handbook
on p. 456 - lobes of corolla, corolla tube, calyx lobes, calyx tube, stamen, and sepal. We looked at the beautiful pages entitled "A simple flower dissected" (pp 16-17) in
Eyewitness Plant
. After learning the parts of the lilac flower and discussing their functions, Miss M made a drawing for her notebook, labeling some of the parts.
Expand
From here Miss M may press more flowers and make notecards and candles with them, using the directions in Nature Smart. We plan to make it to our local floral shop to see, smell, and compare different flowers. Adding to the nature notebook by identifying and drawing 3 or 4 local flowers and reading some books and articles will round out our Flower Power focus. I hope to do a few of Anna Comstock-style observation lessons with whatever flowers Miss M decides to identify. Using the
Handbook
makes it pretty easy, even though I'm not a botanist or even a gardener!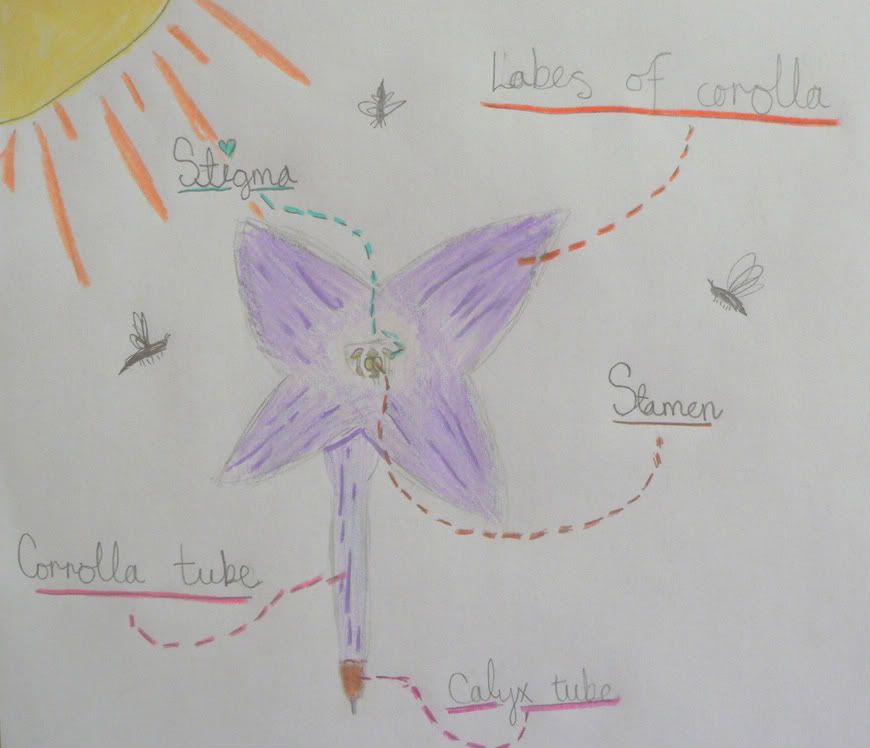 Art
will be the flower illustrations, and maybe a sketch from the
Draw 50
book. For Practical Life, we also plan to try our hand at flower arranging using some cheap, grocery store flowers mixed with backyard flowers and weeds and possibly try some edible flowers.
Resources Used
Here are some basic books we found at the library:

Eyewitness Plants

Eyewitness Explorers: Flowers

Flowering Plants

by Wendy Madgwick

A Golden Guide: Flowers

A state Horticulture Society magazine

Draw 50 Flowers, Trees, and Other Plants

by Ames
Here are the books on my shelf:
Handbook of Nature Study

by Anna Comstock

Nature Smart: Awesome Projects to Make With "Mother Nature's" Help

Nature Friend magazine, June 2008 issue
I will close with a sample lesson from
Handbook of Nature Study
. As you can see, this handbook is easy to use, practical, and just as useful today as when it was printed in the early 1900's. This method could be modified to use with any flower in YOUR backyard. : )
LEADING THOUGHT The trilliums are
lilies, and are often called wood lilies, be- 


cause of their favorite haunts. There are 




several species, but they are all alike in 




that they have three sepals, three petals, 




and three leaves. 





METHOD This lesson may be given 




from trilliums observed in the woods by 




the pupils, who should be encouraged to 




watch the development of the berry and 




also to learn all the different species com- 




mon to a locality. 



OBSERVATIONS

1. How many leaves 


has the trillium? How are they arranged? 




Draw a leaf, showing its shape and veins. 




Describe the stem of the plant below the 




leaves, giving the length and color. 





2. How far above the leaves does the 




flowerstalk or peduncle extend? Does the 




flower stand upright or droop? Describe or 




sketch the colors, shape, and arrangement 




of the petals and sepals. Do the petals 




have raffled margins? 





3. Describe the pistil and the stigmas. 




Describe the stamens and how they are 




placed in relation to the pistil. 





4. Do the flowers remain open during 




cloudy days and nights? 





5. What insects do you find visiting the 




trilliums? Do the same insects visit the 




purple and the white trilliums? What is 




the difference in odor between the purple 




and the white trillium? Does this seem 




to bring different kinds of insects to each? 





6. How does the color of the white tril- 




lium change as the blossom matures? 




What is the color and shape of the fruit 


of each different species of trillium?
When is the fruit ripe?