Wee
k 3

This is my first weekly report!!! I am so excited about this idea and love seeing what the rest of you are doing!

We were on vacation last week and we also had a 4 day week because of the holiday Monday - so this week seemed a bit lackluster to me. Maybe it was a bit of post-vacation 'letdown.' Here is what we DID get done.




Memory Folder

-
Psalm 91, "Sea Sh
ell"
b
y Amy Lowell
Sea Shell by A
my Lowell


Sea Shell, Sea Shell,
Sing me a song, O
Please!
A song of ships, and sailor men,
And parrots, and tropical trees,

Of islands lost in the Spanish Main
Which no man ever may find again,

Of fishes and cora
ls under the waves,
And seahorses stabled
in
great green caves.
Sea Shell, Se
a Shell,
Sing of the things you know so well.
From our Book Baskets

-
Torches of Joy by
John Dekker,

The Sea and It's Marvels

(World Book), Australia (Enchantment of the World series), and The Book of Dragons by E. Nesbit
Current Read-Aloud
-

Eight Cousins
by Louisa May Alcott - This is an absolute delight and a must-read for homeschool fa
milies!
Geography

-
We used
the 17" x 22" full-color topographic
map (which folds up and fits right in our geography folder!), blackline map to color, "center" geography cards, and directions which are
all included
in Evan-Moor's Australia workbook. I love, love, love Evan-Moor products! They are so fun and easy to use. After doing the bodies of water map, Miss M chose 4 geography question cards, looked up the answers, and then made a small question-and-answer flip up book. The cover (still drying) is inspired by Australia's Aboriginal artwork.





Math

-
We finally began math this week. I have to say that Christian Light Math is a real winner at our house! I actually saw someth
ing in the workbook that a math-hater like me found....well.... INTER
E
STING!!! Can I share? It was
a lesson on checking long multiplication problems using digit sums. I thought this was a pretty cool trick. Maybe I am just dense, but I don't ever remember learning digit sums i
n school. See lesson below.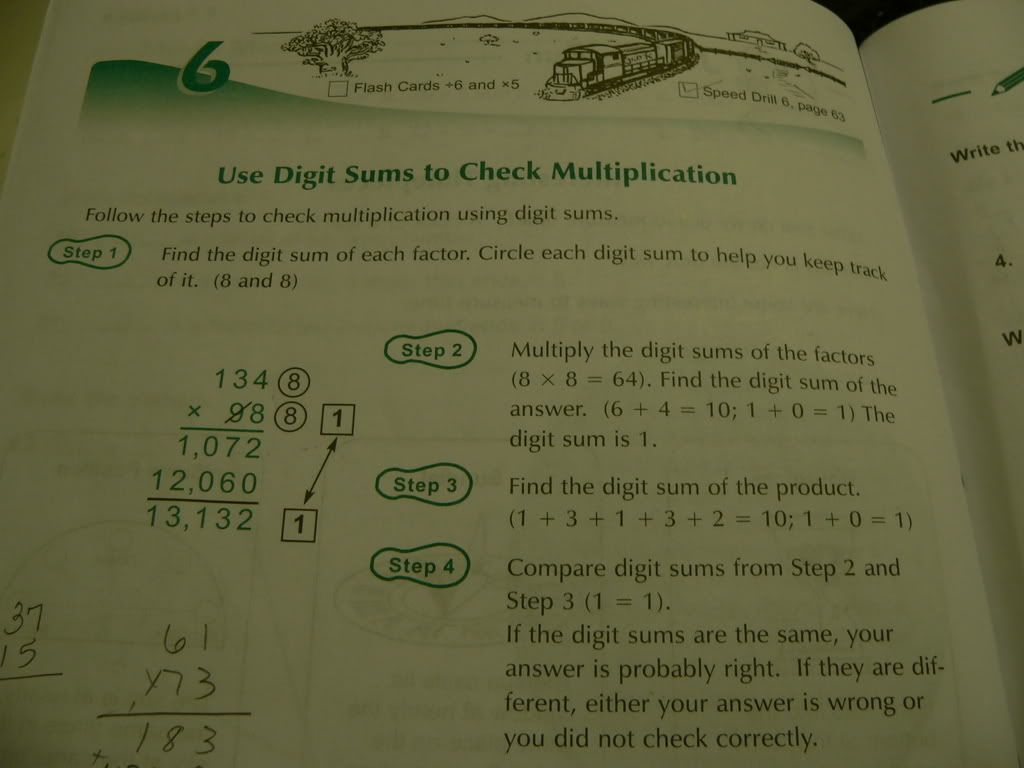 Science

-
Not much here. We did informal reading using library basket full of books on oceans, coral reefs and volcanoes. Miss M did a copywork page with dolphin illustrations.


Music

-
This week we continued our composer study of Franz Schubert. For the first time, we listened to the "Classical Music fo
r Kids" online show. What a treasure! "Take Me to Your Lieder" was a BIG hit with Miss M. She loved taking the online quizzes and insisted on doing all of them.
Copywork/Dictation

-
Copied a few sentences from a science-related library book and dressed it up with some illustrations from the book. See below - sorry for the glare from the page protector. : ) I love how decorative paper and a few pictures dress things up! We also did copywork/dictaion from one SL 5 Languge Arts Activity Sheet using text from
"Call It Courage
.
"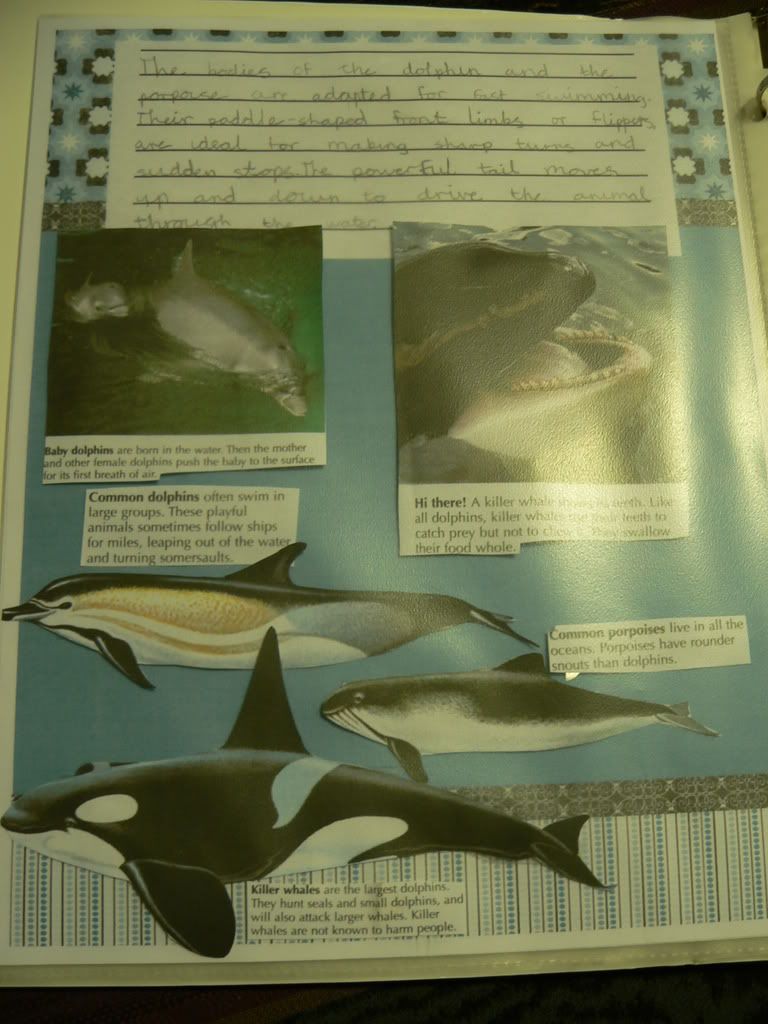 Productive Choice Time
-
Miss M spent several afternoons making various homemade puppets. On her own, she rigged up a puppet theater using two chairs, a broom stick, and a beach towel so she could give proper performances! Quite a resourceful girl. I have to say, the productions were

brilliant

! : ) One night, she acted out

Eight Cousins

with her puppets as Iron Chef was reading the story. Now, that was hilarious!
Thanks so much for stopping by! Somehow my fonts got messed up and I have been unable to fix or change the font sizes. Oh well - hope you don't mind. If you have any clue how to fix it, I'd appreciate it if you let me know!

And, how was your week?